Welcome to Our Parish Community
Prayer Requests
For the People of St. Teresa Parish; for all the sick of St. Teresa Parish listed in the bulletin and for our prayer intentions in our prayer basket.
Rent The Parish Life Center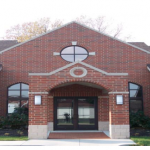 Our beautiful and modern Parish Life Center is available for your next event.  Corporate training sessions, wedding receptions, graduation parties, baby showers, family reunions, steak fries, retirement parties, office parties, monthly organizational meetings... just some of the events our beautiful Parish Life Center has hosted.
January Reflections
The month of January is dedicated to the Holy Name of Jesus, which is celebrated on January 3. The first eight days of January fall during the liturgical season known as Christmas which is represented by the liturgical color white. The remaining days of January are the beginning of Ordinary Time. The liturgical color changes to green — a symbol of the hope of reaping the eternal harvest of heaven, especially the hope of a glorious resurrection.